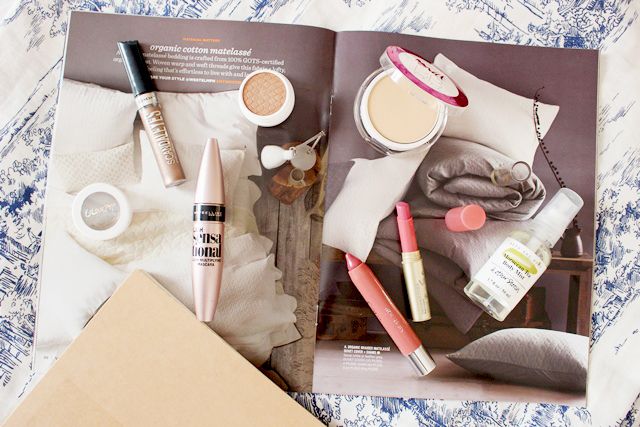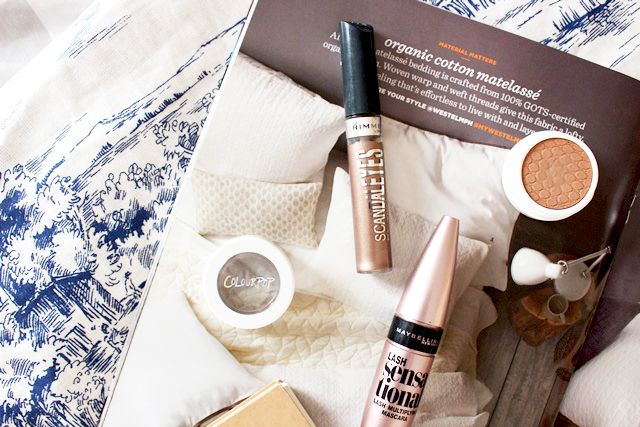 Time to talk about my product list aka faves for the month! I really like the list today as there's a lot of new products in there. Here's what we have for June:
L'Oreal Mat Magique BB Veil
- I don't have a new favorite for base as I am still using NARS Sheer Glow, the NARS Radiant Creamy Concealer and Maybelline Fit Me concealer for my base. But I do have a new powder favorite. This mattifying powder runs a bit pink sometimes but when buffed into the skin, it's ok. It keeps me matte for about 2-3 hours which is just ok but still better than most powders. I also want to try the actual BB cream but it's always sold out!
Rimmel Scandaleyes Eyeshadow Paint in Rich Russet
- This is the color that I wanted Misty Rock to look like. I love this eyeshadow paint because it does not budge once you've applied it all over your eyes. The color is not as pigmented as MR but you can build it up as it dries really fast. I like to layer two coats over my eyes to get that nice mettalic browny taupe color.
ColourPop Cosmetics Super Shock Eyeshadow in Cornelius (part of Kathleen Lights quad)
- Whenever I want crease color, I grab this. This has become tied in with MAC Soba as my go-to crease color. It's slightly more brown and deeper than Soba which I like. I will do a review of this quad so I will not say much about it but safe to say this is one of the standouts from that haul.
Maybelline Lash Sensational mascara
- My new favorite mascara from Maybelline. I've always been a fan of Maybelline mascaras. Some reviews say this has the same effect as the Benefit RollerLash mascara. I wouldn't know because I never want to try any other mascara while I'm using this. I haven't checked our local counters but I really hope we have this locally. Otherwise I will have to hoard!
Bourjois ColorBoost Lip Crayon in Proudly Naked
- I kinda stepped away from my browny nudes this month and started using more pinky-rosy colors and one of the products that gives me that is this lip crayon from Bourjois. The color is slightly more rosy than my natural lip color which I really like. It pairs well with my usual neutral eye makeup and natural blush.
Max Factor Colour Intensifying Balm in Refined Rose
- Another pinky rosy lip color! I have a post lined up about this lip balm so stayed tuned for that.
& Other Stories Moroccan Tea Body Mist
- My summer scent this year! The scent of this is very similar to the Elizabeth Arden Green Tea perfume. Both are clean and fresh scents which I prefer these days. I'm bummed I didn't get a big bottle of this. But the small size makes it the perfect perfume to tote around in your purse.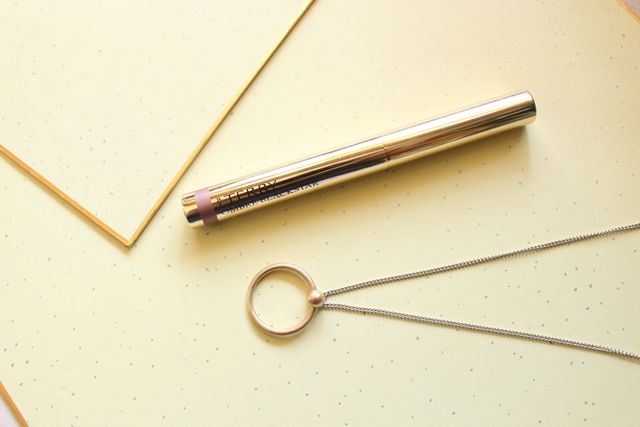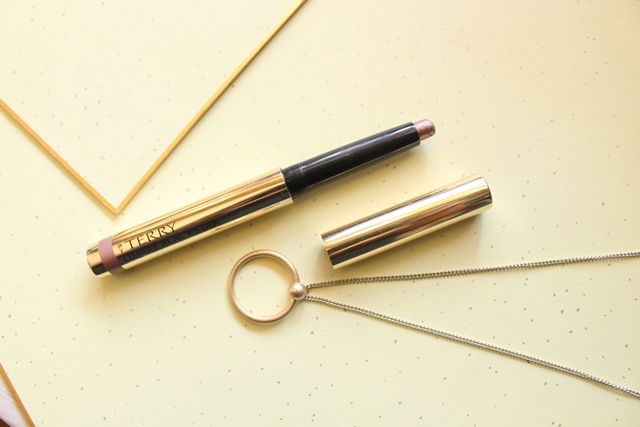 I did it. I bit the bullet and got the By Terry Ombre Blackstar in Misty Rock. I blame all the beauty bloggers/vloggers who has raved about it and convinced me that I needed it in my life. But do I love it? Unfortunately, no, I'm not inlove. Don't get me wrong, it's a beautiful product. The formula is creamy, blendable and lasts all day on the lids without creasing. The packaging is also very sleek and while the tip does get grubby, you can easily clean it with a tissue or wet wipes. I'm just not sold on the color. It's a lot more pinky on my lids in real life when I wanted it to be a taupey-browny color. Online reviews do say that it looks different on everyone (I guess that depends on you skintone) but somehow the camera picks up it darkly and makes it look like a deeper color than what you see in real life. Anyway, I only have myself to blame because I really didn't swatch it when I got in SpaceNK. I just grabbed it and went straight to the counter. Never again. Anyway, I will still use it of course as it's a nice shimmery shadow but I don't think it's going to be a daily staple.
What a cray-cray month June has been! I've been away from this blog for two weeks because we moved to our new house more than a week ago. The days before and after the move were just crazy busy. We still live in the same village so we didn't move far. However, any move no matter how near or far is stressful. We were packing our stuff all day before the actual day of the move because up until the last minute, we were quite unsure if the move will push through (long story but that's for another post). We officially moved June 18 so tomorrow is our second week there. The first three days were spent cleaning, unpacking boxes, waiting for deliveries and utilities. Now, we're still fixing a number of stuff in the house but we're settling in bit by bit. Below are some photos of the areas of the house that I've already fixed and activities we've been doing the past two weeks. But I'm going back to blogging about beauty soon! My office desk arrived yesterday and I'm already planning how to set that up. So stay tuned!
TOP PHOTO: Pantry/cupboard/bar work in progress; Tub and candle area; DIY-ing trays to Duchess Gold; First shelfie; His and hers bedroom slippers
BOTTOM PHOTO: No doorbell yet; Table setting from Crate and Barrel and Gourdo's; First breakfast; My first plant; Where I spent my first few hours in the house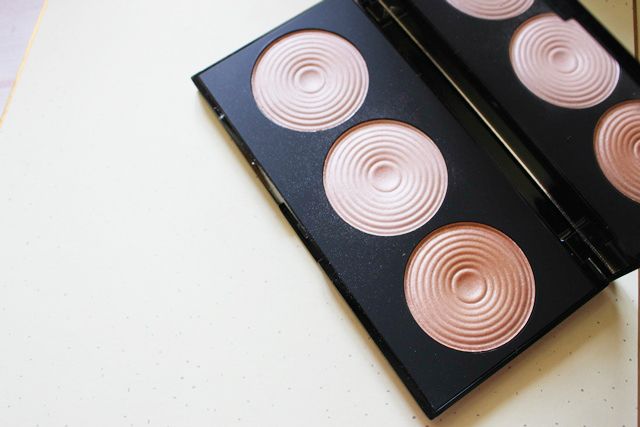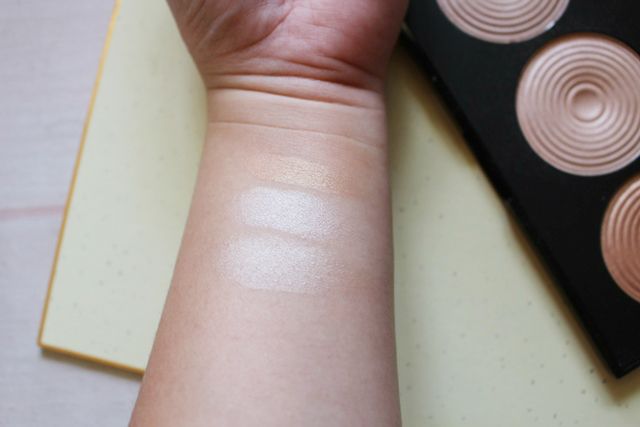 Eversince trying out my very first highlighter about two years ago, I've been hooked. It has become a staple in my daily routine. I've tried them in cream, stick and powder forms and I like the finish in all of them. If you haven't tried one, you need to add it to your makeup stash. I love how it's able to instantly light up the face when placed on the high points of the cheeks, inside the inner corners of the eyes and down the bridge of the nose.
The latest highlighter I've picked up is the Revolution Radiance Palette in Radiant Lights. Revolution is an awesome drugstore brand that really needs to get in Manila soon. Everything is affordable and I've a number of gems from this brand including this palette. Radiant Lights comes with three highlighters, a light gold one, a pinky silver and a bronze-y gold. My favorite is the pinky silver one in the middle because it goes well with almost all blushes I own (I have a lot of peachy pinks). But to be honest, I can easily use all three, I just reach for the middle one the most. The bronzey one would be good for a JLo type of makeup which I really haven't tried yet.
Like most highlighters, these are a bit powdery so the palette gets messy over time. It doesn't last all day, but then what makeup does in this heat? For the price, I think it's a good enough highlighter and would gladly recommend to everyone looking to try a new one.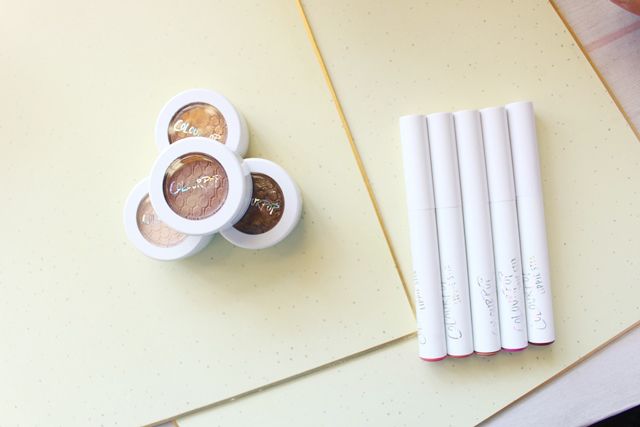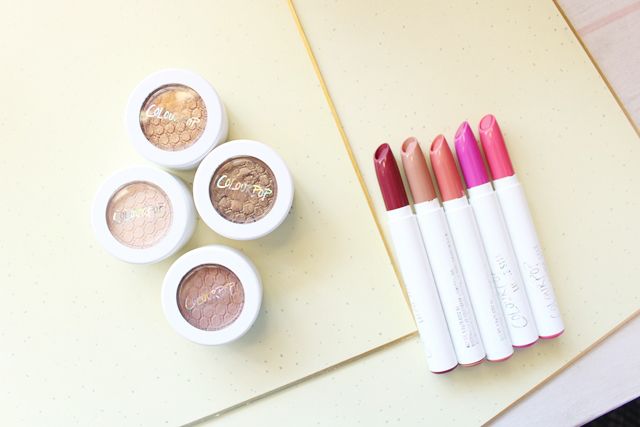 If we're friends on Twitter and Instagram (@berrymix and @bberrymix in case we're not), then you know that I've been obssessing over ColourPop cosmetics for a while now. Basically, ColourPop is a brand based in LA and you can only get their products online. I've been filling my cart with products for weeks and I was really close to making the purchase but it takes sooo long to get products and I really wanted to try them NOW. So I thought to try looking at the different local online stores and finally found them in stock in MUPSTORE. I immediately bought The Kathleen Lights Where the Light is Quad and several lippie stix. I got them just a couple of days after payment.
I've been playing with all of these for a number of days now and I will make a post about them soon. However, even this early I can say that the pigmentation of both eyeshadows and lippie stix are awesome and I'm sure I will be getting more. I also want to try the blushes, highlighters and bronzers. They're so good I don't know how they can be so affordable (well, the packaging isn't the best). Watch out for the post!