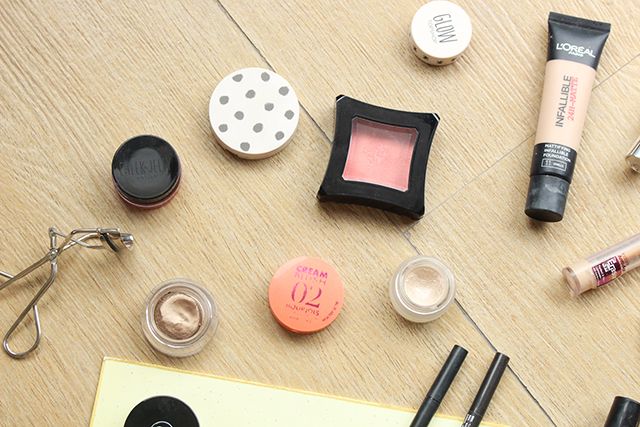 One word: cream. 2015 is the year I've finally admitted to myself that I prefer cream products when it comes to blush, bronzer and highlight. I still like my powder products and since I live in the tropics, there are days when I can't wear cream products. But if I had my way, it's all I'm going to use.

My favorite cream blushes are from Illamasqua, Bourjois and Topshop. But if it's value for money, I would go for the Bourjois and Topshop ones. The Illmasqua one is just too huge and I don't see myself ever finishing it. The texture of the two are very similar. They're cream to powder types that lasts all day on the cheeks. They also have a wide range of shades from nude to pink to red! One product from Topshop that I became obssessed with are their cheek jellys. It's a cream blush that's more liquid than the regular cream blush. It doesn't turn to powder to keeps your cheeks looking dewy. I have this in a pretty berry color called Sibling which was such a favorite, it lived in my bag for more than a month.

For highlight, I always go back to this tiny pot of cool highlight from Topshop called Glow. It's a white iridescent color that works well with my skin tone. I like to wear it on its own or sometimes I use it to amp up my more subdued highlighters.

Come back tomorrow for my favorite products for the eyes!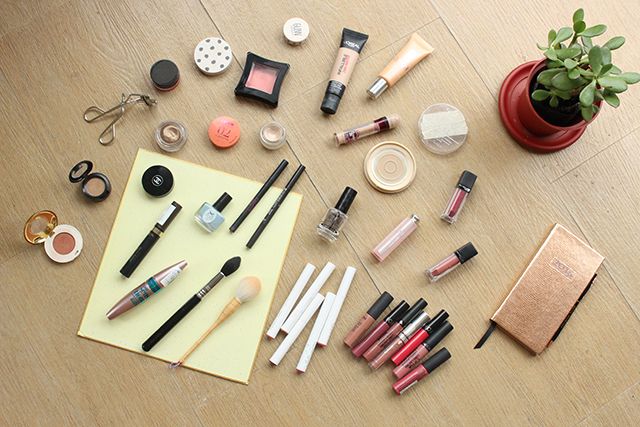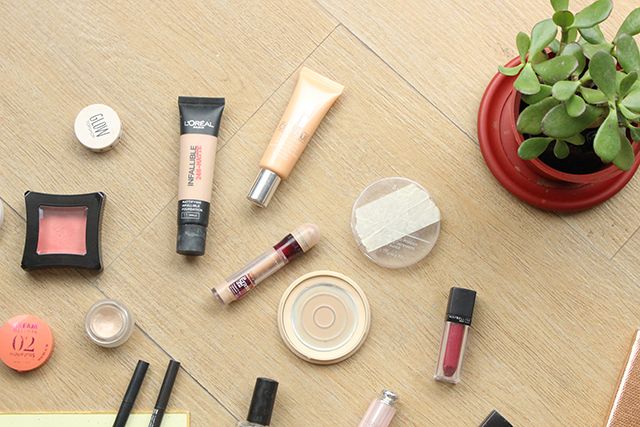 I know, I know. It's almost the end of the month and I've only started posting about my favorites from 2015. I don't know what to say except this month has been bonkers. I will try to do better with my posting schedule and hopefully February will be much better.

But let's get cracking with the products! I thought I'd break the products down into base, face, eyes and lips. Let's start with base. The only primer I've used consistently in 2015 is the Clinique Skin Primer. I prefer it to the Benefit one because it doesn't ball up. I do notice that it keeps my foundation on longer than when I don't use it. Since you also only need a small amount, this tube is going to last a long time. For foundation, I will give this to the L'Oreal Infallible 24H-Matte. I have oily skin so more often than not, I will reach for this on a day to day basis. It's a matte foundation that is also able to make the skin look smooth and not flat. I have a new concealer love right now but I have to consider the one that I've reached for the most for the year. And that is Maybelline Anti-Age Rewind Concealer which I am almost out of. It blends easily and brightens the undereye area. It's not ideal for blemished though and for that I use the NARS Radiant Creamy concealer (not pictured). For powder, I don't even have to say it but look at how well loved that Rimmel Stay Matte powder is. The cover broke so I had to tape it so I can still use it. I already have a back up of this. This powder does not keep me matte all day but it's a good one for when you want to touch up throughout the day. It doesn't cake and the transparent shade is just shade, it doesn't add extra coverage that you don't need.

Come back tomorrow for my face product favorites!
Not quite ready to move on to new things for 2016 so for the new few days, my posts are still going to be related to 2015. Starting with what I got for Christmas - the beauty related bits. Some of these I asked for while the others are nice surprises.

Diptyque Baies (Berries) Candle - If I didn't get this as a gift, I would have gotten one for myself. This blog is named after berries so it's only a matter of time until I got this. This is now sitting on my vanity table which makes me super happy whenever I sit there to put on my makeup.

"Closely related to the eau de toilette L'Ombre dans l'Eau, it expresses the irresistible freshness of a bouquet of roses, sweetened with blackcurrant leaves."

Laura Mercier Warm Roasted Chestnuts Candle - I finally finished the fig candle I got in 2014 (I think) so I added a LM candle in my wishlist. This year's candle is a different scent - very warm and woodsy. It might not be to everyone's taste but I like the strong scent. I have this in my bathroom and it's what I burn together whatever vanilla scented candle I have when I take a bath.

Diptique Geranium Odorate Rollerball - I ran out of my Jo Malone Wood Sage and Sea Salt spray so I needed a new perfume to have in my bag. I got this last year and I wanted to get it again because I love the scent. When I run out of this small rollerball. I will have to buy the big bottle.

L'Occitane Pamplemousse Rhubarbe hand cream and lip balm - I have not used the balm yet but the hand cream is super nice and travel friendly. I feel like like any product from this brand is always a nice gift to receive.

Happy 2016 everyone!

Before we go ahead with fresh new things for the year, I wanted to give a shoutout to the products that saved my skin in 2015. I never really had a lot of skin problems throughout the year as I was very good with my skincare habits. I removed my makeup every night (properly with a makeup remover and then face cleanser); I applied toner, eye cream and moisturiser (sometimes even with an overnight mask or serum) and I stayed away from products if they break me out. Then in December something happened. My skin rebelled and had a full on breakout mode. I woke up with three massive zits on my face and new ones kept on appearing every morning. They were centered around my T-zone and at one point, my chin looked like a murder scene - it was red all over. I am not sure what it was that caused the reaction but I suspect it's the mask that I used for the first time and didn't get on with. This went on for two weeks and that's when I decided to go back to my tried and tested products for acne-prone skin.

I went back to my old cleanser which is the REN ClearCalm 3 Clarifying Clay Cleanser. This is a cream cleanser that works to deeply clean the skin. I use this as my second cleanse after I use an oil to remove my makeup. I follow it up with the Celeque Acne Spot Corrector Gel which I need to replace soon as I'm all out. I apply it directly to my zits and it helps to calm them down and dry them out faster. Then I use the VMV Hypoallergenics Super Skin 2 Monolaurin + Mandelic Acid toner which is a deep cleaning, acne-managing and mattifying toner. Then I follow it up with my usual eye cream and night cream so my skin doesn't dry out. I also use the Origins Out of Trouble mask once a week as it is a mask for troubled skin. I also use the Aesop Parsley Seed Mask which is deep cleansing but I didn't include it in the photo as I feel like the Origins one worked better.

All in all, they helped calm down my skin and while I still have scars from major spots, I'm happy with where my skin is at right now. I will keep on using these products until I'm sure my skin is back to being good. So I wouldn't be featuring new skincare products in the new few posts but makeup is a different matter. I will make a post about them soon (I hope!).


This is a product that I got early this year but haven't really gotten around to playing with until now because it's so foreign and new to me. I've always been a brow pencil kind of girl. I've tried a brow wax and powder duo before but I didn't go back to it after I finished the product I was using (I think it was the Body Shop kit). For me, pencil was the way to go. It's easy and fast and I can do my brows in under a minute. But being a beauty addict, I thought what if there are other products out there that I can use? In other words, I got bored with the pencil. I had to try something new. The Anastasia Dip Brow Pomade exploded into the beauty scene when it was released. A gel/pomade for the brows? That's fun and interesting! I was late to join the bandwagon but I eventually did. I think I got mine in a bazaar in Glorietta. I got it because I felt more convinced to get it as it was there and I could see the colors in person. I got the color Light Brown and after buying it I stored it in my makeup cabinet.

I would try and play with it months after buying it but I always end up not happy with the way it looks on me. To be honest, I still think I need to practice more or I need to get a better brush to apply it but I am slowly getting the hype. Practicing is the way to use this product. You'll have to play with it to see what works for you. After a while, it's easy to create the kind of brow I like - lighter in the inner parts, straight across the front and then slightly extended because my natural hairs are super short. You can make it look natural by just slightly dipping your brush into the product, removing the excess and then applying with small brush strokes. Or you can also draw your brow full on and make "instagram brows". After using this product, I like to apply a brow gel to make the hairs more defined. It's a standard last step for me, no matter what brow product I use.

The only con is that I don't think I will ever be able to finish a whole pot of this and I hear it dries out. Mine is still fine but let's see after a few months.