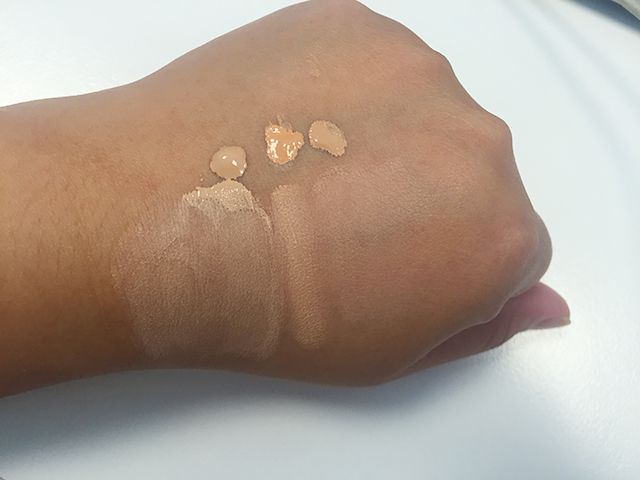 NARS Velvet Matte Skin Tint | LA Girl Pro Conceal | Maybelline Fit Me Concealer


I'm back after almost six months of hiatus. I just haven't been in the right zone to post anything. I guess being pregnant can do that. And to be honest, I haven't been wearing makeup these past months because my skin was really, really bad during the first trimester. It has started to calm down a little so I'm able to wear makeup without fearing it'll get worse.

I thought today I'd post about my current base products. These aren't new products except for the skin tint so they shouldn't be hard to find.

LA Girl Pro Conceal concealer in Creamy Beige - I start with this product because it's good at covering red blemishes and acne scars which I have a lot of. It's more on the peachy/yellowy side so it's also good at covering dark circles. I basically apply this all over my chin, my nose and forehead where I have a lot of red marks. Then under my eyes. It has a brush tip that's not the softest but makes it easy to apply the product to the skin.

NARS Velvet Matte Skin Tint in Groenland Light 3 - I got this product as a birthday gift to myself last February and it's the only base product I've used. It lives in my daily makeup bag. It has SPF 30 too which makes it a two in one product. I apply this using my fingers and blend using a sponge (I blend all the products mentioned in this post with a Real Techniques sponge, except the powder which comes with its own sponge). The finish is velvet matte, not too flat and has no shine at all. On a good day, I can get away with just this and LA Girl concealer on my skin.

Maybelline Fit Me Concealer in Fair - I don't use this product everyday, only when I want to highlight. I apply this in a reverse triangle shape below my eye, on my forehead, chin and down the bridge of my nose then I blend with a sponge.

L'Oreal Mat Magique BB veil - I am a powder girl for life, I can't leave the house without a powder product in my bag. This is the one I've been using lately because it provides coverage. During the middle of the day, the skin tint and concealer will usually fade around my T-zone area and this powder helps control the oil and add coverage. Win win.

I've been using these products for about two months now and I'm still very happy with the finish it gives. On weekends, I switch the NARS tint with the Sheer Glow foundation and keep everything else the same.